A Child's Feelings...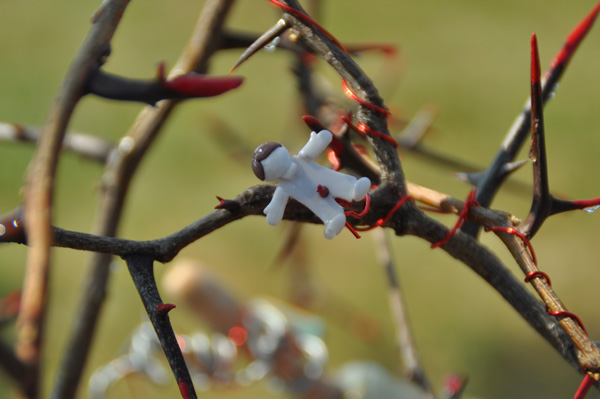 Memories Not Fit To Be Shared....
Detail of little girl with thorn going through her....the boy, through him.
These events began over 30 years ago, when I was a child.
When others in my life speak of their childhoods, I found over the years that I just didn't know how to respond. I don't have stories of fun times to share, because the traumas that were occurring in my childhood meant I didn't get to keep the good memories. I was trying to survive the memories that were too painful to think about. Too many of us from that time share this lifelong 'absense' of what was taken from us. ....that, we carry with us.
But these events were my childhood.
They well-intentioned administrators set out to give us a teacher who would teach us about morality.
In my case, they succeeded.
I wasn't the only child in these events. I was far from the only one targeted for abuse...and I don't think what I experienced was anywhere close to what some of my peers were subjected to.
Once the case was finally over, the school closed. The children left were put in other schools, such as Locust school.
Some parents pulled children out of Hawthorn while this was going on and put them in 'safer' schools. Since placing this site up, some have contacted me and...where some went, they were NO safer and have trauma they deserve healing for.
I hope they find it. I've included some resources throughout this.
I want to encourage all who feel triggered from any abuse in your background to seek healing. It is WORTH IT.

My hope is that if anyone can be helped by this, you'll share it - and help bring meaning to the experiences of those of us who were harmed by the events at Hawthorn School.
Epilogue
Hawthorn School, my school, ceased to exist. The building has been used off and on for different things, including a primary school, an afterschool, and a private school.
By this account, Jeanne Eckmann's journey continued through the legal system until even after her death. She filed a suit against her lawyer...the man who had called me (and the other child witnesses) 'Fog' and discounted our witness testimony in touting his successes to the media.
"On June 22, 2000, plaintiff, Jeanne Eckmann, filed a three-count complaint against defendant, Edward F. Diedrich. Plaintiff seeks compensatory and punitive damages based on the causes of action of fiduciary fraud (Count I), breach of fiduciary duty (Count II), and legal malpractice (Count III). The court has diversity jurisdiction as plaintiff is a resident of Texas, defendant is a resident of Illinois, and the amount in controversy exceeds $ 75,000.00. See 28 U.S.C. § 1332. Venue is proper as the sole defendant resides in this district and division. See id. § 1391(a)(1). Before the court is defendant's motion to dismiss Count II."

"In this case, the court finds plaintiff's allegations of legal malpractice and breach of fiduciary duty do not stem from [*5] the same operative facts and are not, therefore, duplicative. Count III alleges that defendant, in his role as attorney at law for plaintiff, committed legal malpractice by failing to fully inform plaintiff of her rights to proceeds under the settlement negotiated by defendant and negligently miscalculating the amount owed plaintiff. The core of Count II alleges that defendant, while acting in a different capacity as plaintiff's attorney in fact, breached his duty of loyalty by wrongfully keeping for himself portions of the settlement checks to which he was not entitled. The operative facts set forth in each count, though closely related, are distinct and independent. Count III is based on defendant's conduct as plaintiff's attorney at law while he pursued her claim in the Hawthorn litigation. This is a much broader claim covering conduct beyond that which defendant was authorized to do as plaintiff's attorney in fact. Count II is based solely on defendant's activities as plaintiff's attorney in fact whereby defendant was to execute settlement checks on plaintiff's behalf pursuant to the power of attorney plaintiff had executed for that very purpose. The court believes these differences [*6] between Counts II and III are sufficient to support separate causes of action. In this respect, plaintiff's complaint differs from those cases where a breach of fiduciary duty claim was found to be duplicative of a legal malpractice claim. Cf. Majumdar v. Lurie, 274 Ill. App. 3d 267, 653 N.E.2d 915, 210 Ill. Dec. 720 (Ill. Ct. App. 1995) (plaintiff's claims arose out of defendant's legal advice in a single transaction); Calhoun v. Rane, 234 Ill. App. 3d 90, 599 N.E.2d 1318, 175 Ill. Dec. 304 (Ill. Ct. App. 1992) (plaintiff's claims arose from defendant's continual legal representation during a single matter). For the reasons stated above, defendant's motion to dismiss Count II of plaintiff's complaint is denied."

"Similarly, in Eckmann v. Diedrich, 2002 WL 1433736, at *1 (N.D. Ill. July 2, 2002), the plaintiff alleged a breach of fiduciary duty on the part of the attorney that represented her in achieving a settlement. According to the settlement document that plaintiff signed, she was to receive, inter alia, $250,000 as a lump sum in 1986 and seven annual payments of $66,000. Id. The court held that neither the discovery rule nor the fraudulent concealment statute allowed the plaintiff to bring a fiduciary duty claim in 2000 based on the defendant's alleged withholding of $220,000 of the $250,000 lump sum and one third of each $66,000 installment. Id. at *1-*2. The receipt of those lesser sums was itself sufficient notice that she was being injured, causing her claim to accrue and the limitations period to run despite her allegations that she did not discover the defendants' wrongdoing until an investigation in 1999. Id." Source: http://il.findacase.com/research/wfrmDocViewer.aspx/xq/fac.20070315_0000238.nil.htm/qx
Jeanne Eckmann passed away in 2001. Rest in Peace, Jeanne Eckmann.
For those who have passed, I offer my memories, fragmented and from a child's view as they are - as a remembrance...and a wish for peace and healing for their families.
When I was in junior high, and these things were happening, I hid in the bathroom a lot. There were sometimes other children in there, some hiding, some crying....some escaping from their pain through drugs, alcohol, self-harming behaviors such as bulimia & or cutting....and while the school is not to blame for all our pain....it does hold some responsibility there.
For the children who have since died... I honor their lives and struggles to find peace and healing in whatever ways they could find.
I have found the act of creating this piece - and sharing these painful memories - has been very helpful in putting down some of the negative memories, feelings and recovering some of the postive ones.
I can make new memories, now, with my children. It's wonderful to see that most children's lives do NOT contain such things. But some do. We must do what is within our power to bring about awareness and change.
Developmentally-altering 'adverse childhood experiences' greatly affects all areas of health, including feelings of safety....security...justice....systems of meaning (spiritualty) - even our relationships with family and our parenting.
If you have a loved one who went to or was involved with Hawthorn school then.....it's ok to ask them if they wish to share their memories. If they choose not....that's ok too.
But just having a safe, caring person ask, listen without judgment (not invalidating their feelings via 'you shouldn't feel...you shouldn't talk about...just 'let it go...') etc. is a powerful way in which loved ones can help trauma survivors heal.
This is true for any traumas, be they bullying, loss of a loved one, sexual assault, car accidents, terrorism. Let them talk. Let them feel.
Recovering Memories and Reframing the Outcome....
Before I started this project months ago, I still couldn't mentally see that junior high hallway...that room...that part of the school. I could picture myself walking down the steps from 5th grade to the 6th grade..and just 'saw' a wall of grey fog.
Traumatic memories are like that for some.
Now, I can see the room we were in, clearly. A bright coat of fresh yellow paint. New everything. New desks, new windows...it should have been a time of learning and growing.
...and the night I finished the piece, I tried a 'Creative Visualization' exercise to release some of the negative emotions.
I envisioned myself driving up to that school...as the adult I am now.
Opening that door to that room. Seeing all of us there. Holding out my hand. Standing in between the child me, my classmates, the door...and blocking that teacher (and her 'helper' bullies) from stopping those of us who wanted to from leaving.
Telling them...and my child self..."it's ok now....
You can walk out of here, now.

You'll NEVER have to come back.

...NEVER hear that bell being rung up alongside the side of your head...ever again.

...NEVER be stuck in here ever again.

...NEVER have to sit and watch other children being encouraged to humiliate others.

...NEVER have to stay there for that.

...NEVER have to listen to your Mom weeping about this..

...Though, I can't promise you'll never again hear it on tv, or see it on the cover of 'Women's Day' Magazine...
I envisioned I held out my hand out to the child me...and to my dear friend who died in the summer of 2010...and I saw us as we both were then.
Young. Powerless. Afraid.
...and I envisioned looking around, and leaving.

....and leaving the door open.

...going out into the sunlight, where the hayfields and grass are blowing.

...and getting into my van...and driving us away, slowly. Because now, I can.
Probably, I'd have headed for ice cream...because the child me didn't know she was allergic to dairy and so...she could eat it.
...and I'd never let anyone call her fat or ugly or stupid or greedy or disgusting for enjoying the simple treat.
Which happened to me - when I was in that classroom. ...and in a few other classrooms.
She wasn't the only bully, just the one with a whole lot of might on her side. ...and a great public relations campaign.
Goodbye, Hawthorn. Thanks for the...well.
Anyway, goodbye school and few happy glimpses I have.
Thank you for viewing my journey...which is ongoing.
I have a lifetime of art inspiration inside of me. :>
I didn't expect to share this piece all throughout the time I was creating it, but some survivors & friends encouraged me to share it. I don't claim this piece is good art, but it has been very healing.
For my Mom, Dad, Tammy, Donna, and the others....R.I.P.
For all the Children of Hawthorn, and their loved ones...may you find healing if you need to
For all involved in these events, may your lives be filled with family, friends, and happy memories
"I was brought up to believe that the only thing worth doing was to add to the sum of accurate information in the world." ~ Margaret Mead
Resources
| 1 | 2 | 3 | 4 | 5 | 6 | 7 | 8 | 9 | 10 | 11 | 12 | 13 |
Email: heather@mcmeekan.net